Meditation Pavilion
Lake County CA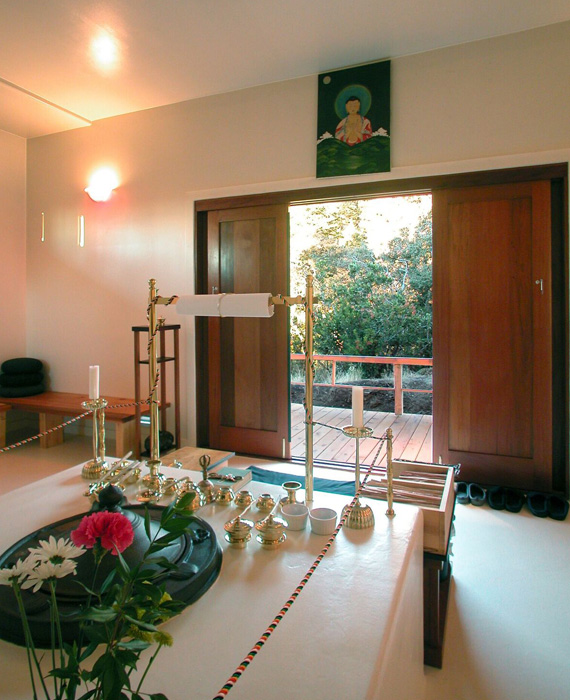 A new 602 sf pavilion at the California Tendai Buddhist Monastery's spectacular 160 acre site on the south slope of Cobb Mountain in Lake County CA accommodates practice and teaching of the ancient Buddhist Goma ceremony. The ceremony is dedicated to achieving spiritual wisdom and purification through invocations, offerings, and meditation before a specially prepared fire. The Owner requested a design evoking traditional Buddhist temple architecture that he could construct with minimal outside assistance on the remote site, using humble, inexpensive materials. This is one of few (possibly the only) structure dedicated to the Goma ceremony in the Continental US.
Accommodating the fire ceremony while complying with building and fire codes in a high-risk area posed a challenge. A flue system within the roof structure removes smoke without detracting from the spare aesthetic of the meditation area, or interfering with the symbolic 'Hoshu' ornament chosen by the Owner to crown the pavilion's roof.
Design and construction of the roof was challenging, including framing of deep curving overhangs and application of standing seam metal to the compound curves of the roof surface.
| | |
| --- | --- |
| EASA Architecture: | Ellis A. Schoichet AIA and David S. Uldrick |
| Structural Engineer: | Sung Engineering, Union City CA |
| Builder: | V.K. Leary (Keisho) – Owner/Builder |
IN MEMORIAM
Sadly V.K. Leary (Keisho) passed-away from an untimely and unexpected illness in May of 2015. The Hoshu-in at Buddha Dendo was consumed in the Valley Fire later that same year, October of 2015.
Keisho's wonderful blog remains online for viewing at:
California Tendai Buddhist Monastery
| | |
| --- | --- |
| Images: | Ellis A. Schoichet AIA / EASA Architecture |